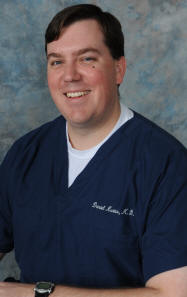 Daniel Kurica, M.D., born and raised in LaPlace, joined Aslett-Kurica Eye Center in July of 2009 with the goal of helping the residents of the River Parishes.
Daniel received his Doctor of Medicine degree from LSU Medical Center in New Orleans in 2005. From there, he completed an internship in Internal Medicine at Ochsner Medical Center in New Orleans. As Chief Resident, Daniel finished his ophthalmology residency at the LSU/Ochsner Ophthalmology training program in New Orleans in 2009. As an ophthalmologist at Aslett-Kurica Eye Center, Daniel specializes in medical and surgical eye care including cataracts, glaucoma, diabetic eye disease, and pediatric ophthalmology. He strives to be conservative, compassionate, and meticulous in his practice. 
Dr. Kurica enjoys playing golf and is an avid LSU fan.