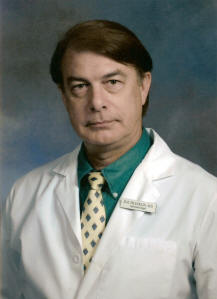 Rudolph M Franklin, M.D., studied at Johns Hopkins University in Baltimore Maryland, earning both his undergraduate and medical degree. His postgraduate training in ophthalmology was done at The Wilmer Eye Institute, at Johns Hopkins Medical Institutions, in Baltimore Maryland. He received additional training at the Wilmer Eye Institute in immunology and retinal diseases. After training, Dr. Franklin performed immunology and allergy research for two years in the U.S. Public Health Service stationed in Bethesda, Maryland.
Dr. Franklin moved to the New Orleans area to join the Faculty at the L.S.U. Medical Center where he was promoted to professor of ophthalmology. He then opened a private practice in New Orleans along with various offices across the Gulf Coast. In 2005, his primary office in New Orleans flooded when Hurricane Katrina struck, and he relocated to Slidell, Louisiana. 
Doctor Franklin specializes in the diagnosis and treatment of diseases of the retina and inflammatory eye diseases including Uveitis. He has been in practice in New Orleans and the Gulf Coast region since 1978.